Mosquito Fogger 868
The Backpack Mosquito Fogger / Mist Blower / Atomizer
The Invatech Italia 868 is our largest and most powerful mist blower/duster, incredibly ideal for crop protection and pest control. The 868 mosquito fogger has more power and mist volume than any comparable unit on the market today. You can optimize your work faster and more efficiently with this insect fogger.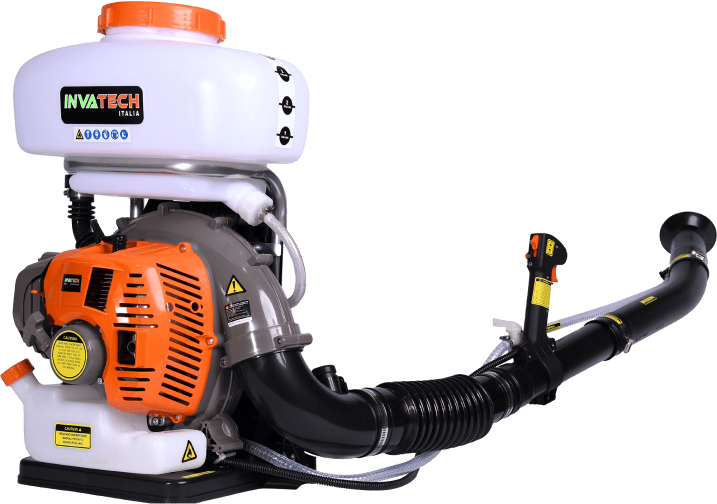 Benefits of Our Sanitizing and Mosquito Fogger Machine
Free Shipping All Orders
Stock up on more items with free shipping on ALL orders in the US and Canada. There are no hidden costs, and you are getting exactly what you're paying for. 
3-Year Warranty
If you find yourself without a functioning mosquito or sanitizing fogger machine or if yours seems like it's on its last breaths, then don't worry - every three years is more than enough time for an upgrade!
45-Day Money Back
You're in control. If you aren't satisfied with the quality of our disinfectant and mosquito foggers, send it back our way with our 45-day money-back guarantee!
Exchange or Reimbursement
The days of buyer's remorse are over! We will fully refund you within 10 business days if there's been an issue with your purchase. You can also make an exchange for something else if preferred!
Invatech Italia Fogger Machine and Mosquito Fogger Collection
Resiliency is one of the most important qualities you can look for in the best disinfectant fogger. Invatech Italia has sure solutions to pests and diseases with our collection of insect and sanitizing fogger machines. We have been known to carry the leading mosquito foggers in the industry with our innovative solutions. Know when choosing Invatech Italia, you choose a quality that has a 3-year full warranty. With our foggers, you'll have more than just some hope of success.
Developed Through the Constant Pursuit of Mosquito Fogger Excellence
It all started with an itch to find a more permanent solution to mosquito control. Since then, Invatech Italia has combined innovative technology with precision engineering and design to deliver a solution to mosquitoes and pest control. We are a dedicated team of professionals with a passion for providing powerful technology to help make our customer's lives easier.Our goal is simple: bringing a quality and performance fogger for home and professional use that you can count on.