Battery-powered ULV Disinfectant Fogger for killing Viruses, Bacteria and Mold.
Invatech Italia M-3500 is a Samsung battery operated — a world-renowned and trusted brand. The battery used in this ULV fogger machine is a Lithium-Ion battery. This type of battery is famous because it lasts longer, charges faster, and has higher power density compared to your other batteries. You can work longer with this fogging machine without having to sacrifice the power. The battery included can last up to 3.5 hours.
You can choose from 5 nozzles which are all included. The tank can hold up to 1.3 gallons of disinfectant solution. With the flow rate and micron setting valve, you can easily control the power and micron size, from 20 to 50 microns, of every spray of solution. This battery-operated disinfectant fogging machine comes with a sturdy shoulder strap making it easy and comfortable to carry around.
The best part, it comes with a 3 year warranty including the motor.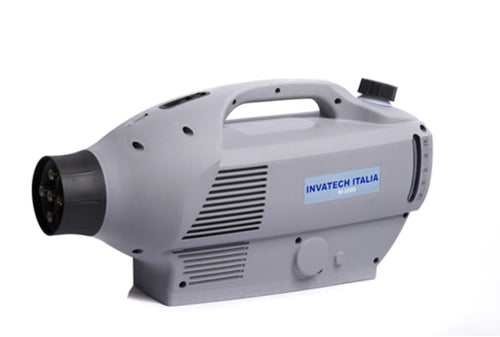 Technical Specifications:
Weight: 6lbs dry
Capacity: 1.3 gallons or 5 liters
Distance: 5 - 15ft
Battery Running Time: 3.5 hours
3 year warranty including motor
Highlights:
Comes with a sturdy shoulder strap
Samsung battery operated
Comes with 5 nozzles
Battery lasts up to 3.5 hours
Flow rate and micron setting valve
Product Reviews