Electric ULV fogging machine to get rid of Viruses, Bacteria and Mold
Looking for a smaller disinfectant fogger you can use for small spaces and rooms? This is the one you need!
Invatech Italia X19 electric ULV fogging machine comes with a flow rate valve that lets you adjust the power and intensity of each spray and a micron setting valve that helps you control the micron size from 15 - 50. Its tank can handle up to 4 liters of solution.
This disinfectant fogger might look small and dainty, but power-wise it is not lacking in any way. It comes with an extension cord to help you reach places far away from your outlet. You just need to plug this machine in your outlet and you can use it to disinfect a room or your entire house. Just make sure your electrical outlet can handle and provide the power this fogger needs to avoid any short circuits.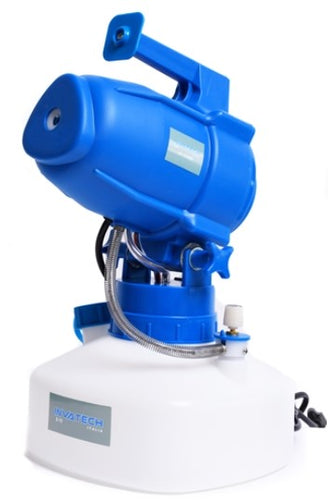 Technical Specifications:

Tank capacity: 1 gallon or 4 liters
Weight: 4lbs dry
Electric voltage: 110 volts - 60Hz 1200 Watts/ 10 AMP
3-year warranty including the motor
Highlights:
Comes with a 13" extension cord
A flow rate and Micron setting valve
Product Reviews