ULV Disinfectant Fogger for killing Viruses, Bacteria and Mold
Invatech Italia X45 comes with a shoulder strap and an easy-to-grab handle making it easy and comfortable to carry around even for hours straight. This ULV fogging machine, together with your trusted disinfectant solution, is used to kill all the bacterias, germs, and viruses in your space.
This electric ULV fogger comes with a flow rate and micron setting valve which makes it easier for you to adjust the power and micron size from 5 to 50. When you turn on this fogging machine, it can reach 15 to 30ft. This makes it easier to reach high or far places. It is especially important when the electric output is far and you forget to bring your own extension cord.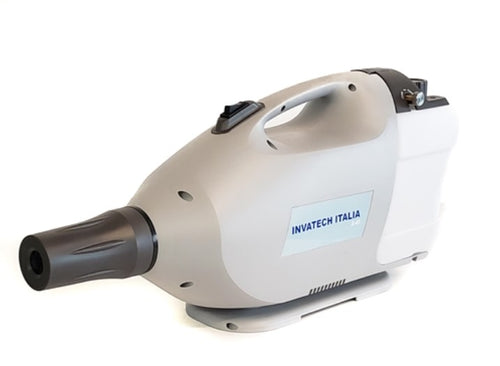 Technical Specifications:
Weight: 5lbs dry
Tank capacity: 1 gallon or 4 liters
Electric voltage: 110 volts 60Hz 1600 AMP
Extension cord: 18"
Range: 15ft - 30ft
3 Years warranty including the motor
Highlights:
Comes with a flow rate and micron settings
Equipped with shoulder straps
Can be used as an atomizer
Produced 5-50 microns
Made in Korea
Product Reviews