ULV fogger machine is the most effective equipment to get rid of Viruses, Bacteria and Mold
Invatech Italia 35XLT is a ULV fogger mainly used to disinfect and sanitize against bacterias, germs, and viruses. It comes with a soft comfortable strap and a handle plus it only weighs 5 pounds, when it doesn't have any solution on its tank, making it easy to carry around.
The 13" extension cord comes with a GFCI (also known as ground-fault circuit interrupter) which acts as a circuit breaker. It instantly cuts the power off to prevent any electrical accidents.
Each spray produced is about 10 - 150 microns which you can adjust according to your needs with the micron setting valve. While you can control the power of each spray with the flow rate valve. You can easily control where the spray is directed to with the included long industrial hose.
When you plug in this fogging machine, be sure to check the outlet if it can handle the electric voltage this machine needs.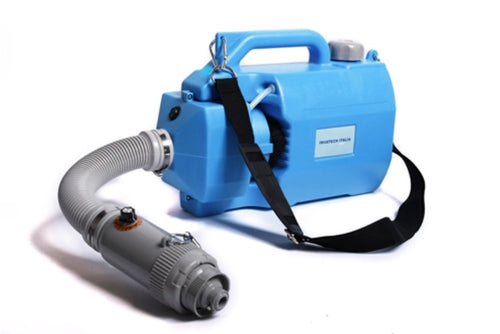 Technical Specifications:
Dimensions: 21" x 17" x 9"
Weight: 5lbs dry
Tank capacity: 1.3 gallons/ 5 liters
Electric voltage: 110 volts - 60Hz 1600 Watts
Extension cord: 13" with GFCI
3 year warranty including motor
Highlights:
Comes with a shoulder strap
Includes a long industrial hose
A flow rate and micron setting valve
Product Reviews