Electric disinfecting ULV fogging machine recommended by professionals.
Invatech Italia 5500 is an electric disinfecting ULV fogging machine commonly used by professionals to kill all bacterias, germs, viruses, and molds. It comes with a 4-gallon tank that can be filled with disinfectant solutions or pesticides. Each spray produces 0 - 50 microns of solution which can sanitize every nook and crannies in your room, space, or establishment.
It comes with a long industrial hose to help you reach far and high places. This hose has a flow rate and micron setting valve which lets you adjust the power used and micron size. It is highly effective in disinfecting large rooms and open spaces.
This fogger machine comes with padded back support making it comfortable and easy to carry around even for hours. Just plug it in the nearest electric outlet and start disinfecting.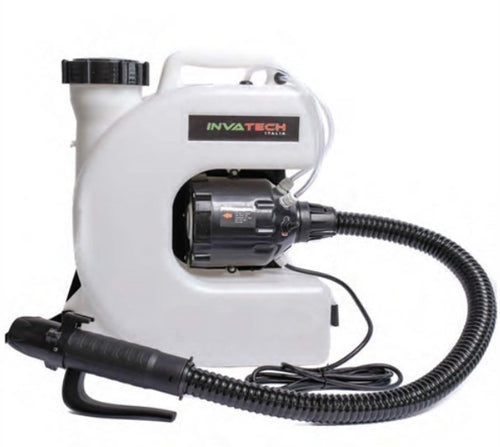 Technical Specifications:
Tank capacity: 4 Gallons
Weight: 12 pounds dry
Electric voltage: 110 volts 60 Hz
Range: 5 - 15ft
Highlights:
Comes with padded back support
Comes with a large mouth for filling
Produced 0-50 microns
Comes with a long industrial hose with a regulator valve
Product Reviews