MOST EFFECTIVE SOLUTIONS TO KILL BACTERIAS, VIRUSES
Disinfect and sanitize all surfaces, appliances, furniture. etc., with the Quat Plus TB Disinfectant. It is a popular disinfectant, deodorizer, mildewstat, tuberculocide, fungicide, and, most importantly, virucide. This disinfectant solution kills pathogenic microorganisms that commonly cause sickness, flu, mold buildup, etc. It is highly effective against bacterias, germs, viruses, — including COVID-19 — mold, fungi, and mildew.
Kill all those harmful pathogenic microorganisms and keep your loved ones safe from any bacterias, viruses, and germs with this one-step disinfectant solution. You don't have to mix it with water, this disinfectant is ready to use. Just remove all dirt from the surface and spray the disinfectant. Let the solution penetrate and disinfect the surface for 60 seconds before wiping it dry.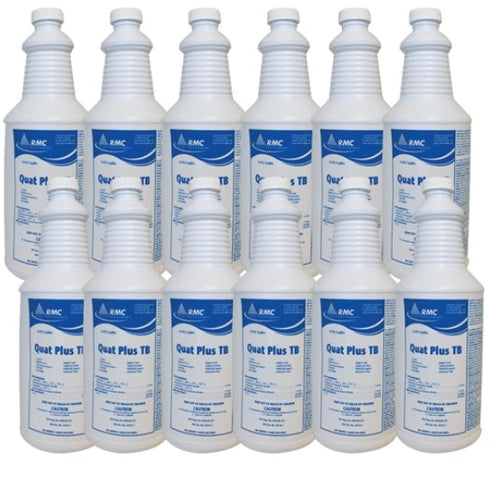 Highlights:
Unit Count: 96 Fl Oz
Case of 12 Quart Bottles
pH level: 11.5
Effective for:

COVID-19 in 60 seconds
NOROVIRUS in 30 seconds
HIV-1 in 60 seconds

Used for:

Floors
Walls
Metal, stainless steel, glazed porcelain, and plastic surfaces
Water fountains
Breakroom tables
Light switches
Security stations and bins
Door handles, knobs, and push bars
Dispensers
Appliances
Sinks
Cabinets
All non-porous surfaces
Product Reviews