Invatech Italia 915 is our newest and most powerful mosquito fogging machine! It can be used as a backpack mosquito fogger, mister, duster, atomizer, and leaf blower. Equipped with a revolutionary fan system and a 4.7 HP engine with an 805 CFM tunnel volume, this fogger machine is the best option you have in the market today.
Its mist outfit can reach up to 32ft vertical and 39ft horizontal. This machine is ideal for misting or spraying solutions or pesticides in large, wide, and open spaces. The standard nozzle droplets are about 52-70 microns meaning your solution or pesticides can last longer in the air killing pests better and more effectively.
This fogging machine weighs about 22 pounds combined with padded shoulder straps and backrest, making it comfortable to carry around for hours. The translucent tank included can hold up to 4 gallons or 15 liters of solution or pesticide.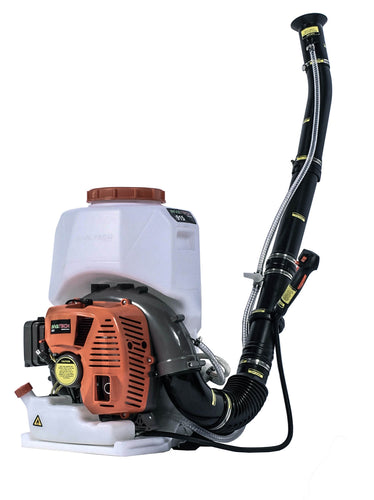 Highlights:
Equipped with Pressurized Turbo Pump
Comes with a revolutionary fan system
Can be used as a mosquito fogger, mist blower, atomizer and leaf blower
Comes with ergonomic padded shoulder straps and a backrest
Comfortable to use for hours
Can be used with disinfectant solutions and pesticides.
Technical Specifications:
Dimensions: 16.5 x 19.5 x 27 inches
Motor: 4.7 H.P. engine
Tank: 4 Gallon or 15 Liters
Air Speed: 230 MPH
Fan Rotation Speed: 7500 RPM
Weight: 22lbs or 9.98kgs
Dosage:

Liquid: Up to 1.2 gallons per minute
Powder: Up to 14lbs per minute
Granular: Up to 45lbs per minute

Reach:

Horizontal: 39ft
Vertical: 32ft

Warranty:

45 days money back guaranteed
3 years warranty
Product Reviews