MOST EFFECTIVE SOLUTIONS TO KILL BACTERIAS, VIRUSES
REMINDER: DO NOT use this product on any medical device surfaces.
It is highly recommended to use in hospitals, schools, establishments, etc., CP-64 deodorizes, disinfects, and thoroughly cleans any surfaces, floors, and any other non-porous surface. This concentrated solution can kill all bacterias, germs, viruses, molds, mildew, and other pathogenic microorganisms. CP-64 kills H1N1, HIV, VRE, CA-MRSA, and more! It prevents the murky for produced by molds and mildew.
This disinfectant is highly concentrated and needs to be mixed well with water before use. You can use a mop, sprayers, or sponges when applying this solution. CP-64 leaves a refreshing lemon fragrance behind after application.
When handling this disinfectant, it is best to wear protective gear, especially protective gloves.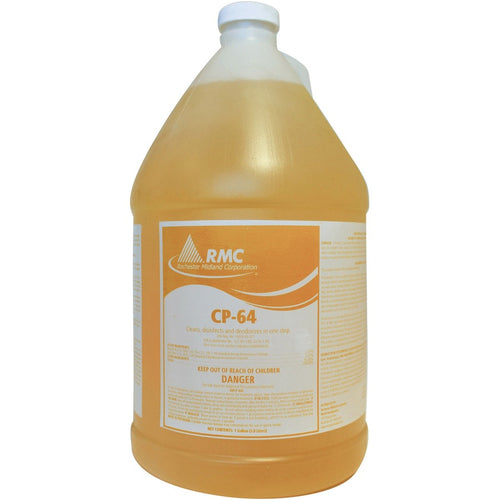 Highlights:
Fragrance: Lemon
Dilution: 1:64 - 1:30
4 Gallons per case
Mix 2oz CP-64 per gallon of water
Mixes 256 gallons of solution
EPA approved
Penetrates soil
Concentrated
Hard water tolerance
Can be used with a mop, sponge, or sprayer
Product Reviews